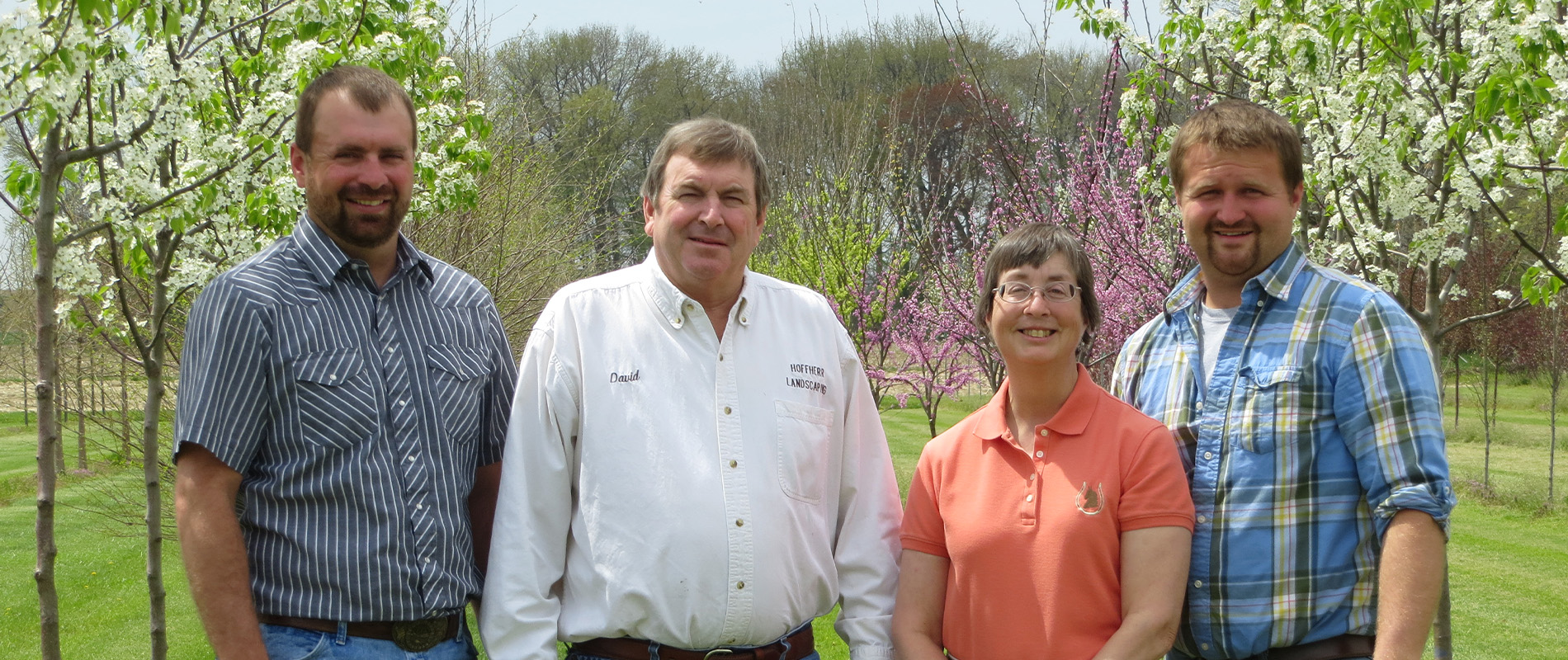 Our Family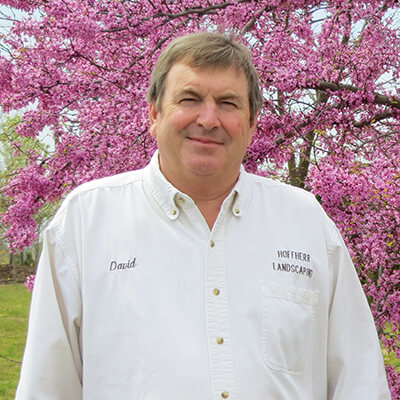 DAVID HOFFHERR
OWNER/FOUNDER
DAVID
David Hoffherr has dedicated a lifetime to providing the highest level of service possible to each of his clients in the landscape industry. David began a lifelong career in the green industry by starting his own lawn mowing business at the age of 10. Those early years saw him traveling from home to home in McCutchanville hauling his mowing equipment on a two wheeled cart pulled by a John Deere 'A' tractor. His passion for the landscape industry was ignited by his father, Norman Hoffherr, who spent his career working at Mead Johnson Company as the director of the grounds maintenance department and the manager of D. Mead Johnson's farm and residence. David's education took him from Trinity Lutheran School (Darmstadt) to F.J. Reitz High School, and then on to Purdue University. He graduated from Purdue in 1977 with the degree of Bachelor of Science, majoring in Landscape Architecture. Upon graduation, he went to work for a landscape design-build firm in Chicago. After a year in Chicago, he returned home to Evansville and soon began to dream of operating his own company. In September of 1978 David made that dream a reality by striking out on his own with the founding of Hoffherr Landscaping. This daring move arose from a desire to see each and every project completed with the best practices possible as well as a passion for sculpting the outdoor living environment to best reflect the personality of each one of his clients. The following year saw another milestone when he fell in love and was married to Kay (Kalena) Hoffherr. They spent every day together running the new company and raising a young family that included two sons: Jonathan and Benjamin. His free time finds him working the land his grandfather and father farmed, caring for his Hereford cattle, enjoying the outdoor life as an active sportsman, and spending quality time with his grandchildren.
AFFILIATIONS, ASSOCIATIONS & ACCREDITATIONS
David is a Licensed Landscape Architect and holds a membership in the American Society of Landscape Architects.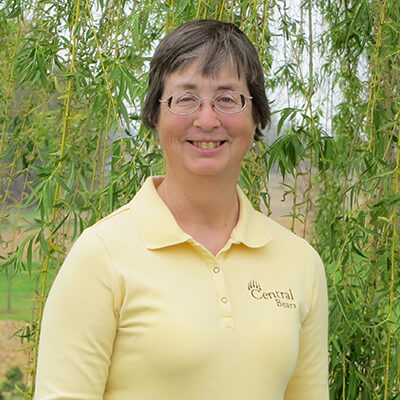 KAY HOFFHERR
PARTNER
KAY
Kay Hoffherr not only has dedicated her entire career to the education of children as a science teacher, she also has devoted herself to the family business and farm and worked hard to see them succeed. She received a Bachelor of Arts in Biology Education from the University of Evansville in 1979 and a Master of Arts in Science Education in 2006 from the University of Southern Indiana. She studied in Europe while attending UE's Harlaxton College in Grantham, England. During her college years she met David, a young entrepreneur just starting out. They fell in love and were married in 1979. After graduation, Kay began her teaching career at Reitz Memorial High School. A few years later with the arrival of their first child, Jonathan, she left teaching to stay home at the farm. Kay dedicated herself to raising Jonathan and their second son, Benjamin, as well as helping to run the family landscape company. In 1996 she returned to teaching science, this time at her alma mater, Central High School. She has received numerous awards and accolades, most notably as a recipient of the Outstanding Teacher award at C.H.S. and as a finalist for the National Laurence Scadden Education Award. Kay is known throughout Central High School as an engaging, thoughtful, and inspiring teacher. Her free time is filled with loving grandchildren, a lifelong passion for horses, riding and showing in both saddleseat and dressage.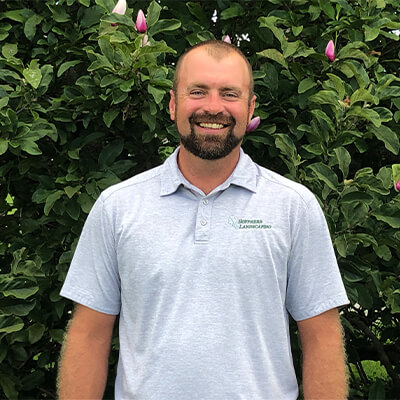 JOHN HOFFHERR
LANDSCAPE ARCHITECT & PROJECT MANAGER
JOHN
As both a Landscape Architect and Project Manager, John Hoffherr is in a unique position that allows him to work closely with clients throughout the entire project design and construction process. He draws deeply on his experience in the industry, having helped in the family business since childhood. He holds a Bachelor of Science degree in Landscape Architecture from Purdue University. During those years at Purdue he was able to study abroad in Europe at Leeds Metropolitan University and traveled to many of the greatest European gardens and piazzas. He also completed a one-year internship with an award-winning firm in the residential design-build market of Chicago. Upon graduation in 2006, he returned home to join the family business. John is a Licensed Landscape Architect and holds a membership with the American Society of Landscape Architects. Publications include being featured in Evansville Living Magazine. John strives every day to bring an engaging and fulfilling experience to each of his clients and gives complete devotion to each landscaping project. In the time that is not spent sculpting the outdoor environment to better the lives of his clients, he can be found working on and enjoying the natural surroundings of the family farm and woodlands. He also volunteers with the Vanderburgh County Fair Association and serves as a board member of the Vanderburgh County Farm Bureau.
AFFILIATIONS, ASSOCIATIONS & ACCREDITATIONS
John is a Licensed Landscape Architect and holds a membership with the American Society of Landscape Architects. Publications include being featured in Evansville Living Magazine.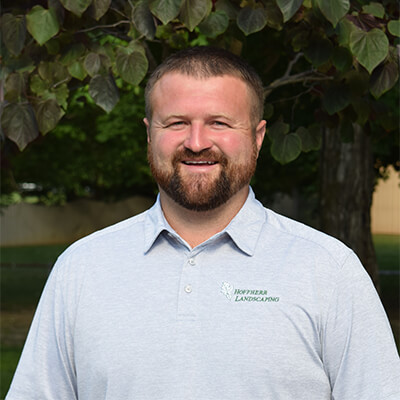 BEN HOFFHERR
CERTIFIED ARBORIST & NURSERY MANAGER
BEN
Ben Hoffherr enjoys every opportunity to interact with his clients conveying to them the knowledge he has gained from his many years of experience in the landscape industry. From childhood he has been active in the operation of the family farm and a constant presence on landscape construction projects. He holds a Bachelor of Science degree in Horticultural Production and Marketing from Purdue University with minors in Agribusiness Management and Plant Biology. After graduating in 2011 he returned home to the family landscaping business. In May of 2013, he married his high school sweetheart Megan (Kron) Hoffherr, who is Purdue University's 4-H Youth Development Extension Educator in Vanderburgh County. Ben and Megan have three children; Bennett, and the twins Evan and Adelyn. Outside of his profession he enjoys caring for his herd of Hereford cattle, four-wheeling, and volunteering at the Vanderburgh County 4-H Center serving on the board of directors.
AFFILIATIONS, ASSOCIATIONS & ACCREDITATIONS
Ben is a ISA Certified Arborist and holds a state and national membership in the International Society of Arboriculture.